The Waterfront Meets Desert - Blue Heron Homes for Sale. Aspirational Luxury Living in Each Community at Lake Las Vegas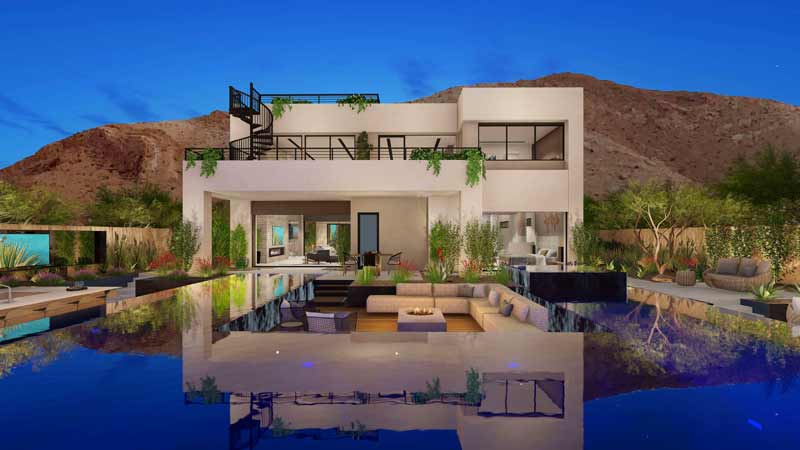 Blue Heron's exclusive Lake Las Vegas communities are complemented by shimmering blue water and majestic mountains. These exclusive communities set in Henderson, are home to hiking and biking trails, championship golf, and outdoor dining. Furthermore, it's just short drive from where desert meets lake to the sparkling Las Vegas Strip. Tour Blue Heron homes for sale in five different communities: Shoreline, Strada, Velaris at The Island, Arvada at the Island and Caliza. Each of these Blue Heron lavish communities have something for every type of luxury modern home owner. Moreover, each community uniquely embodies aspirational waterfront living in the desert.
Shoreline Homes for Sale at Lake Las Vegas
The first Lake Las Vegas Blue Heron community is Shoreline. This resort style living community features stunning views of the lake and surrounding Mojave Desert. Every homesite at Shoreline features walking trails, easy access to shopping, dining, and entertainment. Furthermore, you will find golf course amenities at South Shore Country Club. Everyone loves the exclusive fitness stations. This private gated community offers three floor plans. They include a third-level option with a lock and leave convenience. These custom 3-5 bedroom homes range from 2790 sq. ft. to 3659 square feet. Prices start at $964,990.
Shoreline is situated on the edge of the lake. The community is located just 30 minutes from the LV Strip. Shoreline is a connected community. Residents enjoy an architecturally progressive home that blends aesthetics and outdoor living. Additionally, there is fun-filled recreation. Enjoy easy access to world-class golf courses, hiking and biking trails. You will love the water activities, delicious dining options, and popular entertainment attractions. All just moments away from home. Shoreline is also within close proximity to 12 schools, entertainment and dining within the Green Valley Ranch area.
Strata Properties for Sale at Lake Las Vegas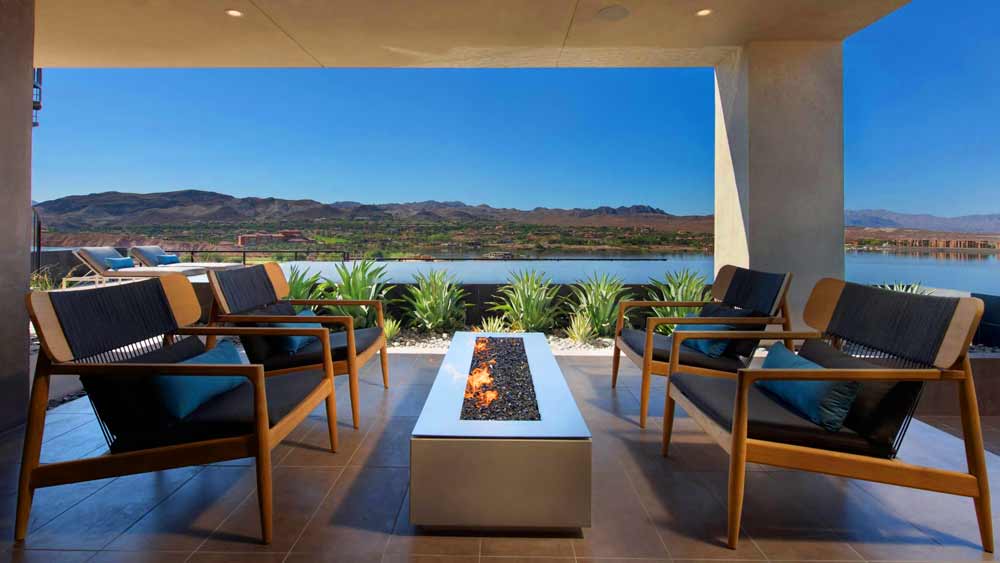 The second collection of homes is named after the beautiful layers in the surrounding rock formations of the lake. Appropriately, this Blue Heron community is named Strata. These homesites are located on a mountain side for an unmatched panoramic lake views. Strata's gated community offers 19 homesites, spacious backyards, with ample room to add a pool for entertaining. These custom 3-5 bedroom homes range from 2870 sq. ft. To 4688 sq. ft. Prices start at $1,024,900.
Strata is within close proximity to four golf courses: Reflection Bay Golf Club, SouthShore Country Club, Chimera Golf Club, and Royal Links Golf Club. Three schools: CT Sewell Elementary, B Mahlon Brown Junior High School, and Basic Academy of International Studies High School. Entertainment found near this community includes : Las Vegas Sports Club, Regal Sunset Station Stadium 13 and IMAX. You will also find Lake Mead Recreational Area, and Sunset Station Hotel and Casino. And last but certainly not least are exquisite restaurant options. These include: Bayside Grill, Luna Rossa Ristorante, Marssa, Medici Cafe and Terrace, Mimi and Coco Bistro, ONE5 Lakeside, Vino del Lago and Le Café Du Lac.
Velaris at The Island Homes for Sale at Lake Las Vegas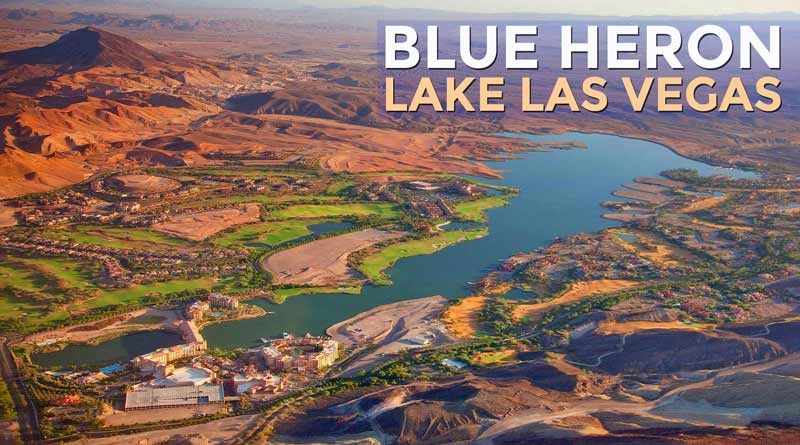 Velaris at The Island is a exceptional BH community. The desert contemporary design concepts have resulted in the unmistakably unique lakefront living with a contemporary sensibility that is fresh yet familiar. These custom homes feature famous indoor-outdoor living spaces known synonymously with Blue Heron Homes.  The designs of these new homes are open. Unique among the boutique communities in southern Nevada you get an island feel. You will find lush plants in addition to the desert landscape. The scenic water view accentuates this Lake Las Vegas boutique community. Additionally, it is close to The Village. This hosts community events, dining, concerts and so much more. Custom 3-5 bedroom homes range from 2870 square feet To 4688 square feet. Prices at this Lake Las Vegas village start at $1.3M
Arvada at The Island Properties for Sale at Lake Las Vegas
Another Blue Heron community on The island is Arvada. It is situated on the north shore peninsula. Arvada provides living for those who would prefer to stay home and enjoy their luxurious lifestyle. This community is built right on shore properties. Naturally, they are perfect for the staycation lifestyle or entertaining alike. All homesites are on the water. Breathe in expansive views of the mountain ranges and lake. These custom 3-5 bedroom homes range from 4972 square feet To 7789 square feet. Prices start at $1.9 M.
Caliza Homes for Sale at Lake Las Vegas
Finally, is one of Blue Heron's most sought after community. Located at Lake Las Vegas, Caliza is on the desirable north shore. Caliza will add solace, comfort and luxury living. Each Las Vegas are home is absolutely one of a kind. Named after the bright fossil-rich limestone found at the lake, Caliza's design is unique. Caliza, which is limestone in Spanish, resembles a seaside respite.
On a whole, all communities by Blue Heron at Lake Las Vegas are a dream. Is hiking, biking, golfing, and 5 star outdoor terrace dining is of your liking? Consequently, Las Vegas Lake lifestyle will be your target. Moreover, it is situated just 30 quick minutes from the Las Vegas Strip. Without a doubt, these custom homes and boutique communities are the perfect place to call home.
Mahsheed + Blue Heron for Las Vegas-Based Waterfront Luxury Real Estate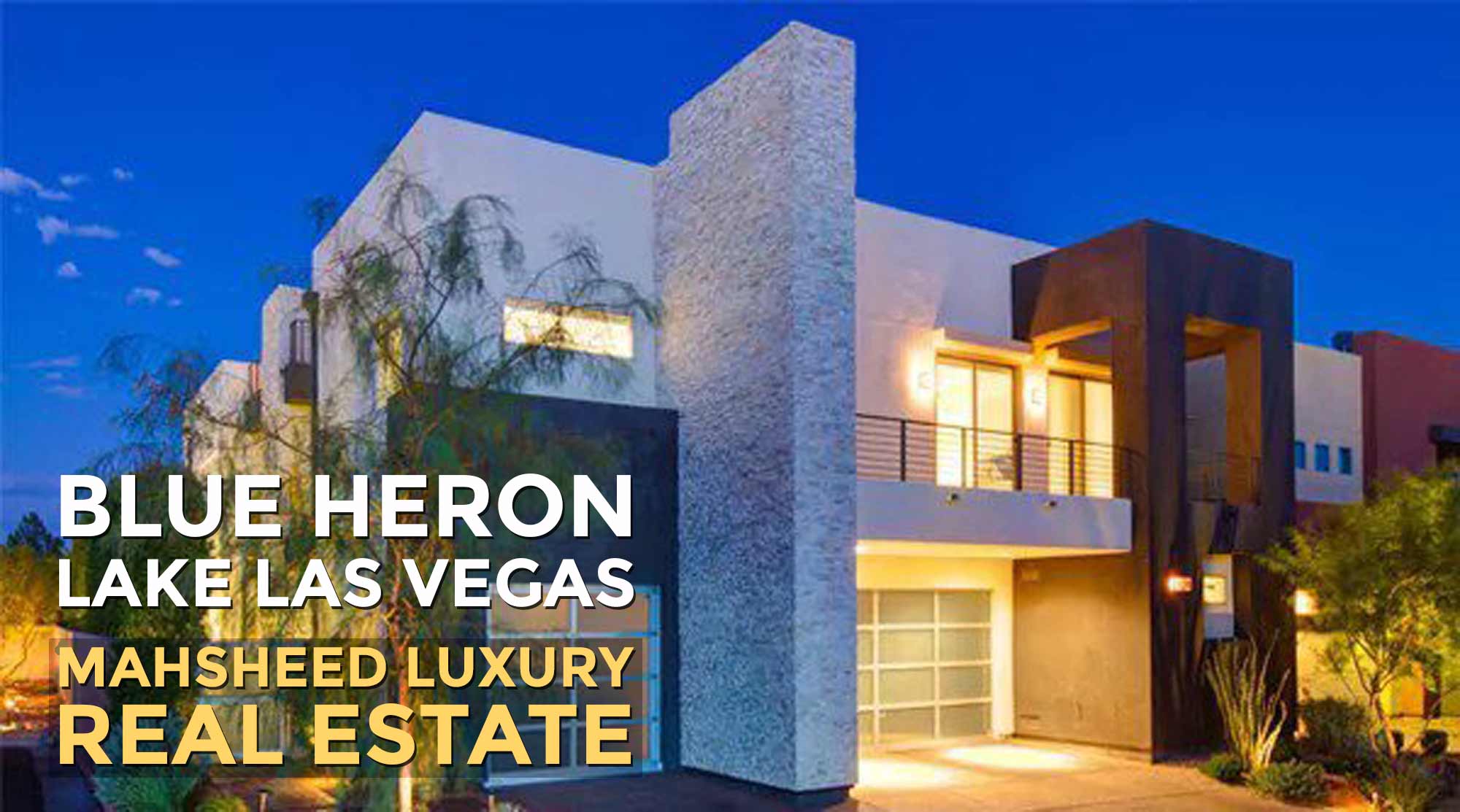 See the Blue Heron collection of homes at Lake Las Vegas. Mahsheed would love to show you that you can have the best of both desert and shore worlds. Book a tour of luxury properties situated in the serene beauty of this Las Vegas lake. See all the comforts of modern living which blend aesthetics with functionality. Get access to spacious homes offering luxurious amenities. Embrace the stunning views. Furthermore, Mahsheed shows you homes tailored to your unique needs and desires.
From entertaining to relaxation, each of the Blue Heron Homes for sale are designed for maximum enjoyment. Contemporary architecture and design enhance the beauty of the surrounding landscape. All homes feature energy-efficient appliances, smart home technology, and durable building materials. You are ensured a comfortable living experience. And this is no matter what our weather brings.
Luxury and comfort come together in harmony. What a great place to call home. Whether you're looking for a vacation home or a place to call your own, call Mahsheed Luxury Real Estate. See Blue Heron lake homes which are sure to exceed your expectations.