Living in Las Vegas High Rise Condos
Living in Las Vegas High Rise Condos has become increasingly popular among people who want to enjoy the amenities and perks of vertical living.
A condo located in a highly charged city like Las Vegas has double the benefits – amenities and perks in a location that's earned its reputation as The Entertainment Capital of the World.
The rush to relocate to roomier living spaces, along with the migration of high-end buyers from more expensive states like California. Consequently, this has fueled Las Vegas's soaring real estate market, including the demand for luxury condos.
Las Vegas High Rise Condos - Many Choices!
Befitting its glitzy location, high-rise condos in Las Vegas come in a variety of top-end styles and budgets. These range from spacious lofts to luxurious multi-room properties. Moreover, these condos are known for offering five-star hotel amenities such as pools, spas, gyms, theatre rooms, and more.
Getting a spectacular view is one of the most important things sought by high-rise condo buyers. Therefore, condos on the top floors tend to have better views based on the direction they face. Some buyers prefer looking out to the distant mountains while others are partial to the lights of the vibrant Strip.
Purchasing Las Vegas High Rise Condos is not only an indulgence or a lifestyle choice, it also makes financial sense. For instance, residents don't have to pay an income tax and the cost of buying property is far lower than the neighboring state of California.
Make Wise Purchasing Decisions
Consequently, if you're ready to purchase a luxury condo in Las Vegas, read on to find out all you need to know to make the wisest choice.
Things to consider when choosing a high-rise condo
There's no doubt that high-rise condo living appeals to many buyers. What's left to do is find the right location, the right size, the right price, and the right amenities.
Before you make an offer, here's what you need to do:
Inspect the building
Make an ocular inspection of the common areas in the Las Vegas high-rise condo you plan to live in. Look closely at the pools, the landscaping, the function rooms, and get a feel of the general upkeep.
Common areas may be well maintained but are they in need of an upgrade? Or are they simply part of the aesthetic?
If things in need of refurbishment or repair seem to have been left unattended, this could be a red flag indicating that the homeowners' association is poorly managed or the property manager has been amiss in their duties.
Disrepair won't just have a negative effect on your living experience, it could also drastically lower the resale value of your unit in the future.
Check the location
One of the greatest perks of living in a high-rise condo is that they allow you to live in the heart of the most desirable locations in Las Vegas, areas in which traditional houses are either priced astronomically high or are non-existent.
In Las Vegas, high-rise condos are typically found in or around the downtown area. Consequently, condo homeowners have terrific access to nearby business and entertainment districts. As a condo owner, you are within steps of public transit, major attractions, restaurants and bars, and plenty of events.
Determine your mode of payment
If you're buying a luxury condo, it's safe to assume financing is no object. Therefore, a cash purchase is always best and fuss-free. However, if you plan on taking out a loan, know that lenders and banks consider condos to be riskier than single-family homes because each unit is part of a multi-unit project. For this reason, the condo building you choose must be in good financial health as well.
Request a copy of the Homeowners' Association (HOA) rules and regulations
Take your time to review the homeowners' association fees and regulations.
Fees ensure the upkeep of amenities and the property itself. Review those fees and ask for inclusions – usually services like lawn care and cleaning common areas.
Regulations are conditions you must live with should you move into the building. Look for rules implemented in the community like noise restrictions. What are the guidelines for booking common areas in advance? Are there restrictions involving the size and number of pets you are allowed to own? Is there a limit to the number of cars you can park on the property?
Conduct a Thorough Review
You'll want to review the declaration of covenants, conditions and restrictions, or more popularly known in real estate as CC&Rs. These legally binding documents cover the obligations of the HOA to its members, and vise versa. Legal issues covered by CC&Rs include:
Property-use restrictions
Maintenance obligations for both HOA and each member
Mechanisms to enforce rules and resolve disputes
Lender protection provisions should the owner default on mortgage payments
Assessment obligations over and above HOA fees (for example, the fee to uproot a dead tree on the building's exterior premises, not covered by regular maintenance fees like maintaining the lawn)
Insurance obligations
Knowing these regulations beforehand will help you determine whether you can live with a particular set of restrictions.
Look into the property management company
When touring high-rise condos, find out the property management company in charge of running day-to-day operations. Go online and check out the company's reputation, track record over several projects and current properties being managed, and feedback from unit owners of the condos they manage.
It can be disappointing to pay association dues only to have the building and facilities fall into disrepair. Inefficient management can push your HOA dues higher or negatively affect the value of your property.
Check out the amenities
High-end condos have great building features and boast first class amenities. Built-in comforts, luxurious features, and security make a condominium practical especially for those living a busy life. Know what you want and find out if the condo building you're scouting provides them. Amenities could include gyms, sky lounges, swimming pools, spas, fitness centers, valet service, high-speed internet, and media rooms, among others.
Are Las Vegas High Rise Condos a good investment?
The National Association of Realtors (NAR) reports that 700,000 condominium units were sold across the US in February 2021. Although the number is 6.6% lower than in January, units sold were 18.6% higher than in 2020. Median condo prices also rose by 12.3% from a year ago.
On the local level, Las Vegas Realtors reports that real estate transactions for condos, high-rise condos, and townhomes, exceeded $158 million in February 2021 alone. That's a 26.5% increase compared to one year ago.
Investors Gravitate Trending Towards Luxury Condos
Even if housing and condo prices are expected to stabilize within the year, savvy investors are putting their money in these properties to rent out. As a result, they see the opportunity for faster, higher returns by including short-term accommodations in their portfolio.
For homebuyers, it is crucial to think of a condo as a long-term investment. Therefore, a building with a sterling reputation and a unit boasting materials and finishes of the highest quality are now non-negotiable.
Think of it as protecting your investment – something that will potentially yield a substantial return when you decide to sell or lease it out.
Living in High Rise Condos in Las Vegas: Pros and Cons
Tired of all the time-consuming tasks and expensive costs that come with being a traditional homeowner?
Buying a condo unit can be a great way to dive into homeownership without worrying about all of the upkeep and maintenance that typically comes with owning a single-family home.
Residents in condos can also take advantage of shared amenities, with the added benefit of letting professional property managers take care of the building's day-to-day administration.
As a condo dweller, all you have to take care of is maintaining the interior of your unit – no need to mow the lawn, clean the pool, shovel snow from the driveway, or worry about a leaking roof.
If you're still on the fence whether condos are better for you than a single-family home in a gated community, let's review the pros and cons of condo living.
PROS
Potentially lower price
Depending on your target area, a condo can cost less than purchasing a single-family home.
Lower maintenance costs
The homeowners association usually takes care of the building's exterior maintenance. This includes driveways, walkways, lawn care, as well as roofs and exterior siding. Property taxes also tend to be lower.
Opportunities to be social
Condo living is a fantastic choice if you want to experience the feeling of being part of a community. Some condo communities organize social events like barbecues and pool parties where you can catch up with fellow unit owners. It's easier to run into them in common areas such as lobbies, lounges, hallways, and the like.
Security & Amenities
24-hour security
Nothing beats a sense of security. Condos provide that via 24-hour security, coded entrances, doormen or receptionists who vet guests, and state-of-the-art security cameras. Your peace of mind is something you can't put a price on.The property manager typically hires a security agency to protect the building and its residents. Areas may include the ground floor, lobby, perimeter fence, and parking.When you live in a condo, you won't have to worry about break-ins, making it an especially attractive choice for frequent travelers and people who work long hours in an office or in the field.
The amenities you want
If you're shopping for condos, amenities are one of the things you're likely to look into. If you frequent a gym, an in-house fitness center may be the perk that seals the deal. Others offer one or more of the following: grilling areas, business centers, dog parks, covered parking, a clubhouse, and many more. The cost of enjoying these perks is shared among all condo residents.There are some high-rise condos with rooftop swimming pools boasting gorgeous views. Others in Las Vegas have function rooms that dwellers can reserve for parties. Game rooms can even include billiards or poker tables. You can also pick luxury buildings with 24-hour valet and concierge services.
CONS
HOA fees and rules
Homeowners association fees are monthly dues collected from unit owners for the upkeep of the building, amenities and common areas, laundry facilities, cleaning services, and more. HOA dues also tend to increase over time, so make sure you find out before you buy.
Examine the High Rise Las Vegas Condo HOA Rules
One major complaint about living in a condo community is that HOA rules can be restrictive, regulating everything from whether you can rent out your unit, to what types of items can be stored on your patio, to how many pets you can have. Ask if your parking space is deeded to the property. Breaking the rules could lead to fines or even foreclosure on the unit, in extreme cases.
Investment risk: You and your fellow residents all own the common areas, so if one or more owners fails to pay their dues, all of the residents bear the brunt. When a condo goes into foreclosure, the unit could be sold at a big discount, affecting everyone's property values.
Less privacy: As typical high-rise condos share common areas like the hallways, amenities, and lobby, those who value their privacy might not be suited to this type of arrangement. In condo buildings that allow renters, there could be a constant stream of people coming and going that might not be as considerate or be as interested in the community as homeowners.
Storage and parking issues: Many condo buildings don't have assigned parking, so you might have to park your car in a less convenient area. Storage could be limited.
Featured high-rise condo units in Las Vegas
Whatever its disadvantages, a high-rise condo is much more than just a place to live; it's a lifestyle. Therefore, choose the kind of life you'd like to live and chances are, there's a condo to cater to it. If you're single, you could move into a studio; loft-style units can double as ateliers; 3-bedroom units are good for families; and a penthouse speaks of your elevated station in life.
The amenities you get for every type of condo depend on what you're willing to pay for. Some of the perks provided by top-end properties include yoga rooms, heated pools, state-of-the-art gyms, theatre and entertainment rooms, smart technology, etc.
Loads of Attractive Amenities in Las Vegas High Rise Condos
One thing is certain: living in a high-rise condo brings you closer to amenities you otherwise wouldn't have access to in the average apartment building or single-family home. Enjoy the feeling of living in your own personal resort without the headache and worry about costs or ongoing maintenance.
To give you a good picture of what you can expect, take a look at two properties I have listed in Las Vegas.
2 balconies to view the sunrise and sunset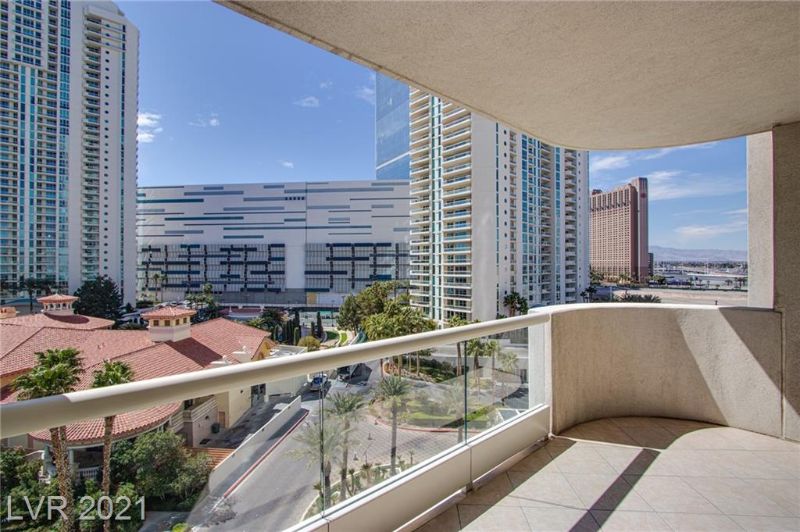 Turnberry Place
For property details, see 2777 Paradise Road #704, Las Vegas, NV 89109
This 2-bedroom, 2-bathroom condo unit in Turnberry Place allows you to live in close proximity to the Las Vegas Strip while enjoying the security provided by a gated community. Make the most of the building's majestic pool and 30,000-square-foot spa and fitness center where therapists can give you a full range of treatments.
The 2,050-square-foot unit is beautifully furnished with antique Asian furniture that's timeless and elegant. Dinnertime is made even more luxurious because of the glass waterfall chandelier in the dining room.
Spectacular Views
The unit has a stunning view overlooking the pool and verdant mountains in the distance. There are two wraparound glass balconies where you can relax with spectacular viewpoints to enjoy sunrises and sunsets.
Located in Tower 4, this place is move-in ready with appliances already provided such as a built-in electric oven, dryer, dishwasher, gas cooktop, garbage disposal, microwave, refrigerator, and full-size washer and dryer.
With so many restaurants and entertainment venues located at the Strip, you won't run out of places to visit and shows to watch nearby. If you have a pet dog, your furry friend can stretch his legs in the building's dog park.
Turnberry Place is the first high-rise condominium in Las Vegas to offer its own limos, allowing you to get around Las Vegas in style!
Listed for $549,000, it's perfect for buyers seeking value for money.
Rare corner unit with wraparound balcony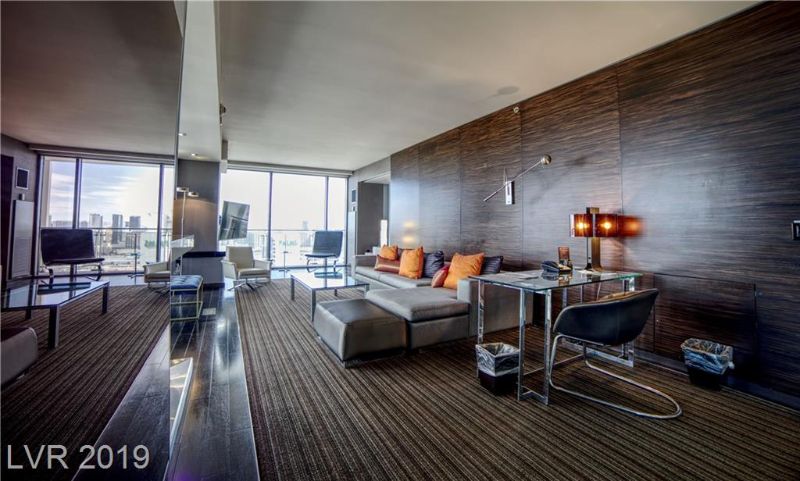 Sky Las Vegas
For property details, see 4381 Flamingo Road, Las Vegas, NV 89178
This two-bedroom, two-bathroom condo unit in Sky Las Vegas offers mesmerizing views of the Las Vegas Strip and Red Rock Mountains.
The 1,467-square-foot residence has been fully remodeled and boasts floor-to-ceiling windows as well as a large glass balcony where you can appreciate the fiery sunsets of Nevada.
Its gourmet kitchen is equipped with stainless steel appliances and gorgeous marble countertops. Cooking is a breeze with the built-in electric oven, electric range, microwave, and refrigerator, as well as dryer and dishwasher.
The upgraded bedrooms feature a marble bathroom and a walk-in closet to provide residents with plenty of space. Nine-foot-high ceilings and a programmable thermostat spell spaciousness and convenience.
On Top of the Las Vegas Strip
Sky Las Vegas is the only high-rise condo building positioned directly on the legendary Las Vegas Strip.
Residents can take advantage of the rooftop recreation area complete with a picture-perfect swimming pool, jacuzzi, and private cabanas of various sizes. In fact, there's also a fire pit where you can huddle during chilly Las Vegas nights.
Challenge your friends to a game at the billiards room, which comes with its own bar. Or you could spend time watching movies at the private screening room. The spa offers a steam room and dry sauna, perfect for de-stressing after a full day.
Las Vegas Condo Charging Stations!
You can move in right away and make full use of the building's fitness center or the event space. Additionally, electric car owners will find charging stations conveniently located at the valet.
Listed for $629,000, this condo's prominent location on the Strip makes it a great investment because the building's value is likely to increase over time.
Choosing a Las Vegas High Rise Condo Realtor to Work With
If you've determined that condo living is for you, it is crucial to choose an experienced real estate agent who specializes in high-rise properties. Moreover, a well-connected Realtor can help you enter the luxurious world of high-rise living in Las Vegas.
Choose one that has your best interests in mind and is familiar with the condo developments in your target area. Additionally, you'll need to partner with a real estate expert with a track record in condo sales to help address your concerns and guide you through important steps. For instance, you'll gain expert assistance reviewing homeowner's association (HOA) documents.
Learn more about luxury real estate investment opportunities in Las Vegas
As a Las Vegas real estate expert, I will guide you to your best options in the valley. I am here to make sure you achieve your real estate investment goals. Similarly, I can also prevent you from making costly mistakes.
For more than 14 years, I have been specializing in luxury homes and high rises throughout the valley, including in the cities of Las Vegas, Henderson, North Las Vegas, and Boulder City. These include the communities of Summerlin, Paradise, and the rest of the metro.
I know where and how to find the property that perfectly matches your needs and preferences. In conclusion, if you're selling your property in these areas, I will leverage my know-how and experience to help you close a sale fast and at the highest price possible.
Thinking of Selling Your Las Vegas High Rise Condo?
When it comes to luxury high rise condos, the team at Mahsheed Luxury Real Estate are the local experts. We have a proven track record and we get results for our clients. Whether you are a luxury condo developer or an owner of a single luxury high rise condo, we can market your condo and get top dollar.
The Las Vegas market is competitive with hundreds of condos for sale. Your listing needs to be seen in a variety of places in order to stand out. We have maximum exposure in Las Vegas and around the world that see thousands visitors each day. If you'd like to discuss the value of your Las Vegas high rise condo, please call Mahsheed at 1-702-769-6274.
Contact Mahsheed
Contact me, Mahsheed Barghisavar, to find out more. My team and I will be happy to hear from you. Call us today at 702.769.6274, or email Mahsheed(at)Mahsheed(dotted)com. You can also leave your message on this website.
I'm looking forward to hearing from you and showing you an array of choices that could be the best residential investment property you'll own.