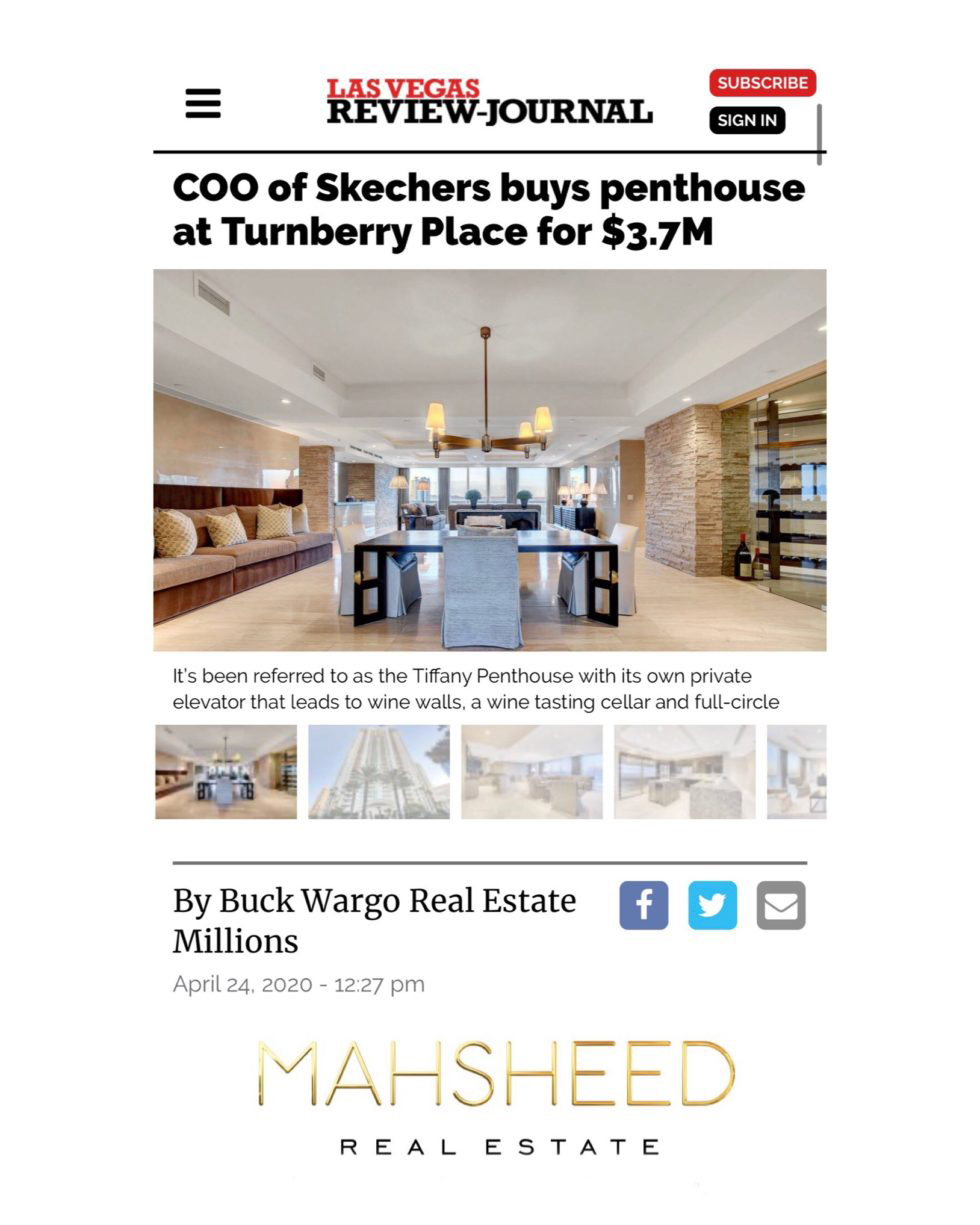 COO of Skechers purchases Turnberry Place Penthouse #3301 for $3,750,000. Mahsheed represented the seller in this transaction, making this sell the largest high-rise transaction in the first quarter of 2020! Thank you to Las Vegas Review Journal for mentioning Mahsheed Real Estate in the Real Estate Millions section. Please read entire article here Real Estate Millions.
New to Las Vegas? Let Mahsheed Introduce You to Turnberry Place!
If you would like to find out more about luxury real estate in Las Vegas, Mahsheed offers clients singular access to the most exclusive properties at Turnberry Place. Mahsheed is also nationally recognized as specializing in Las Vegas luxury condos, high rises and luxury homes.
Whether new, pre-construction or existing luxury homes, luxury condos and luxury condo hotels, Mahsheed and her experienced agents are ready to assist you in your luxury real estate search. Even with a Turnberry Place Penthouse.
Additionally, each Las Vegas real estate agent at Mahsheed Luxury Real Estate has a prime niche focus and area of expertise. It is specialization which results in providing you with the latest real estate knowledge in your area of interest. This is just one reason why Mahsheed aims to be luxury real estate consultant.
Want to hire Mahsheed to buy or sell your luxury home, luxury condo or luxury high rise? You'll be hiring a team of experienced REALTOR®s. Underscored is the superb level of expertise you will be provided when you experience our Las Vegas luxury real estate services.
Of the few existing luxury high rise projects available, you will want to check out Turnberry Place. It is an unmatched luxury condo community. The amenities are ideal whether Turnberry Place will be your primary home, second home or vacation home. If you are moving to Las Vegas, contact us soon so you can be provided immediate information on the newest luxury properties on the market.